Venture&Growth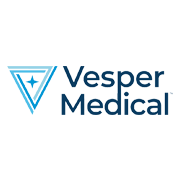 Venous stent for treating venous disease
Since: 2019
Exit: 2022
Venture&Growth
US-based MedTech company developing a novel venous stent.
Vesper Medical is a medical device company dedicated to the development of a novel venous stent for the treatment of a variety of venous diseases. The company had achieved CE Mark and has initiated the VIVID trial in the US for FDA approval. Vesper was founded in 2016 as a spin-out of Intact Vascular.
In 2022, Royal Philips acquired 100% of the Vesper shares, providing Gilde with an attractive return within a three-year holding period.
Philips acquires Gilde portfolio company Vesper Medical to further expand its image-guided therapy devices portfolio
Vesper Medical Announces First Enrollment in the VIVID Trial
Gilde Healthcare co-leads $37M financing of Vesper Medical to complete development of its Duo Venous Stent System