Venture&Growth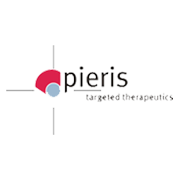 Location
Freising, Germany
Protein Therapeutics
Since: 2002
Exit: 2014
Venture&Growth
Pieris Pharmaceuticals is a clinical-stage biopharmaceutical company dedicated to the discovery and development of its proprietary Anticalin® class of biotherapeutics. The company  has successfully developed a clinical-stage pipeline and closed commercial collaboration with firms like Daiichi Sankyo, Sanofi Pasteur and Allergan.
Pieris Pharmaceuticals began trading on the OTC Markets on December 18, 2014 and later at NASDAQ (Nasdaq: PIRS) on June 30, 2015.
Pieris is located in Boston and in the Munich area (Germany).
More Pieris Pharmaceuticals news
Pieris Pharmaceuticals Prices Public Offering of Common Stock
Pieris Pharmaceuticals, Inc. Goes Public, Raises $12.2 Million
Pieris Achieves Second Milestone Payment in Daiichi Sankyo Collaboration to Develop Anticalin®
Pieris and Sanofi Broaden Existing Collaboration
Pieris Achieves First Milestone Payment in Daiichi Sankyo Collaboration to Develop Anticalin®
Pieris Presents Preclinical Data for PRS-110 c-Met Antagonist Anticalin at the AACR Annual Meeting
Pieris Receives EUR 6 million Grant to Novel Anticalin Therapeutic to Treat Anemia
Pieris signs major collaboration with Daiichi Sankyo
Pieris to Present Interim Data from the Phase I Clinical Trial of PRS-050 at Molecular Medicine
Takeda San Francisco and Pieris Sign Anticalin® Therapeutic Collaboration
Pieris signs broad collaboration with Sanofi
Pieris Initiates Phase I Clinical Trial for Lead Anticalin Compound
Pieris AG Appoints Chief Scientific Officer
PIERIS Announces Positive Preclinical Data on c-Met Anticalin Drug Program
Pieris Appoints a New CEO
Pieris AG enters into Anticalin Collaboration with Allergan, Inc.
PIERIS reports development progress for Anticalin® PRS-050, a next generation VEGF antagonist
PIERIS – Wacker Validates Scalability of Anticalin(R) Production With E.coli Secretion Technology
Pieris Raises EUR 25 million in Series B Financing Round