Venture&Growth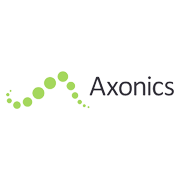 Location
Irvine (CA), USA
Next generation sacral neuromodulation
Since: 2017
Exit: 2018
Venture&Growth
US MedTech company focused on neuromodulation.
Axonics Modulation Technologies developed a novel and best-in-class sacral neuromodulation (SNM) system for the treatment of overactive bladder (OAB) and fecal incontinence. Axonics' r-SNM is small (3cc), fully implantable, rechargeable, MRI compatible andworks in the body for up to 15 years. Axonics has CE Mark, FDA approval and is ramping sales throughout the US and Europe.
Axonics is now publicly listed on the NASDAQ under the ticker symbol AXNX.
More Axonics Modulation Technologies news
Axonics® expands into stress urinary incontinence with the acquisition of Bulkamid®
Axonics Modulation Technologies raises $130 million via public offering
Axonics® receives reimbursement approval in Germany for its Sacral Neuromodulation
Axonics® raises $110 million via Public Offering of Common Stock
Axonics® announces U.S. FDA approval for its sacral neuromodulation system for urinary clinical indications
Axonics® Provides Full One-Year Results from ARTISAN-SNM Pivotal Study at AUGS/IUGA Joint Scientific Meeting
Axonics receives FDA approval for neurostimulator to treat fecal incontinence
Axonics® Announces Fourth Quarter and Full Year 2018 Financial Results and Operational Update
Axonics® Submits Full Body MRI Data to U.S. Food & Drug Administration for its Sacral Neuromodulation System
Axonics raises $120 million via an Initial Public Offering on NASDAQ
Axonics® Announces $40 Million Financing
Axonics® Granted Seven New U.S. Patents Related to its Implantable Sacral Neuromodulation Technology
Axonics® Receives IDE Clearance from U.S. FDA to Conduct a Pivotal Study with its Sacral Neuromodulation System for the Treatment of Urinary Dysfunction
Positive Results for the Axonics® RELAX-OAB Clinical Study Presented at the International Continence Society Congress
Axonics(r) Appoints Dr. Karen L. Noblett as Chief Medical Officer
Gilde Healthcare participates in EUR 31 million financing round of neuromodulation company Axonics