Private Equity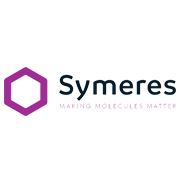 Location
Nijmegen (HQ) and Groningen, The Netherlands
Drug Discovery Services
Since: 2017
Private Equity
Symeres, previously known as MercachemSyncom, is a leading mid-sized European Contract Research Organization for integrated outsourced drug discovery services. With over 500 scientists at six locations (in the Netherlands, Czech Republic, Finland and Sweden), the company provides best-in-class solutions for drug discovery and drug development for small molecules to clients in the global biotech and pharmaceutical industry. The services from Symeres range from early-stage hit finding to the delivery of early clinical drug substance API. The company combines deep scientific knowledge with creativity to deliver quality results.
Gilde invested in 2017 both in Mercachem and Syncom and merged them, thereby creating a leading European drug discovery platform. The investment thesis was to accelerate organic growth, while adding complementary services both organically and via acquisitions to create an integrated service provider.
The platform acquired three additional companies in three years, adding both CDMO and Biology capabilities and creating an integrated offering. Adding the acquired businesses to its strong organic growth, the company more than quadrupled its revenue and profitability. Gilde actively supported the company with the acquisitions, leveraging its network to source the companies and playing a leading role in the execution of the transactions. In addition, Gilde helped to strengthen the senior management and supervisory board and supported several operational measures such as the building of new facilities.
"Both Mercachem and Syncom were proprietary deals from our network," notes Hugo de Bruin, partner at Gilde Healthcare. "Both companies were successful quality providers, and both had the appetite to grow and fill the gap between the local providers and the listed multinationals." "We have supported their expansion plans and strictly focused on adding quality providers with a complementary service offering," adds Rafael Natanek, partner at Gilde Healthcare. "We are proud to have been working closely with management and help them source and acquire companies which facilitated Symeres' transformation into the leading integrated CRO it is today."
Gilde Healthcare exited Symeres in 2021 to Keensight Capital, a French investor with a specialization in CRO's.
Gilde Healthcare's Private Equity fund sells majority stake in European CRO/CDMO Symeres to Keensight Capital
MercachemSyncom changes name to Symeres
Drug discovery CRO MercachemSyncom adds biology services through acquisition
MercachemSyncom acquires the European operations of Alcami
Gilde Healthcare invests in Mercachem and Syncom to build the Premier European Drug Discovery Contract Research Organization