Venture&Growth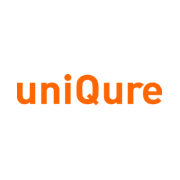 Location
Amsterdam, The Netherlands
Lexington (MA), USA
Gene Based Therapies
Since: 2007
Exit: 2014
Venture&Growth
Dutch Therapeutics company focused on treatment of rare diseases with gene therapy.
uniQure is an innovative gene therapy company focused on rare genetic diseases. uniQure's lead product is AMT-061, a drug to treat Hemophilia B, a serious rare inherited disease characterized by insufficient blood clotting. A pivotal study of AMT-061 for the treatment of patients with severe and moderately severe hemophilia B began enrolling in June 2018. uniQure is a leading gene therapy company that developed Glybera (alipogene tiparvovec), the first gene therapy product to receive regulatory approval in the European Union.
Gene therapy is a technique for correcting defective or missing genes that cause diseases. uniQure is primarily focused on rare genetic diseases, and will also start developing gene therapies for chronic and degenerative diseases that affect larger populations. uniQure has successfully completed a phase 2 study with AMT-061 in hemophilia B and initialed a phase 3 study with this drug candidate in June 2018.
Gilde participated in the first financing round of uniQure, then called Amsterdam Molecular Therapeutics. The company has since advanced its product pipeline to clinical studies. uniQure listed at NASDAQ (Nasdaq: QURE) in 2014.
uniQure is located in Amsterdam, the Netherlands and in Lexington Massachusetts, United States.