Venture&Growth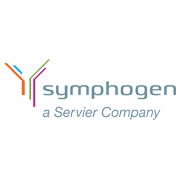 Location
Copenhagen, Denmark
Polyclonal Antibody Therapeutics
Since: 2007
Venture&Growth
Symphogen is a leader in the development of antibody mixtures to improve the treatment of cancer.
Symphogen's technology is uniquely suited for targeting multiple molecules, which is key to dealing with complex diseases such as cancer.
The Danish company, based in Copenhagen, generates revenues from out-licensing drug candidates to large pharmaceutical companies. Its pipeline addresses large commercial markets (> $1 billion) in oncology.
Since Gilde invested in Symphogen, the company has expanded and advanced its product pipeline, and strengthened and broadened its technology platform. Its lead oncology product was out-licensed to Merck in 2012 following a positive phase-2 trial in late-stage cancer patients. Symphogen also initiated commercial agreements with Genentech.
Symphogen presents detailed results for randomized Phase 2 study with Sym004 in refractory metastatic colorectal cancer at ESMO 2017 Congress
Symphogen Initiates Anti-MET Clinical Program
Baxalta and Symphogen Establish Strategic Collaboration to Accelerate Innovation in Immuno-Oncology
Symphogen Announces Closing of a EUR 67.5 M Financing Subscribed by Existing Investors
Symphogen Regains Rights to Sym004 / Announces Organizational Changes
Sym004 Advances into Two New Clinical Trials and Receives Milestone Payments
Symphogen Relocates to New Headquarters, Names Chief Manufacturing Officer
Symphogen Enters Clinical cGMP Manufacturing Agreement with Gallus
Symphogen Receives Milestone Payment in Merck KGaA Sym004 Collaboration
Symphogen Reports New Data on Anti-EGFR Monoclonal Antibody Mixture
Symphogen Expands Previous Private Equity Round, Reaching a Total of €141 million (USD 185 million)
Symphogen Presents New pan-HER data at Annual AACR Meeting
Symphogen Grants Exclusive Worldwide License of Phase II Oncology Drug Candidate Sym004 to Merck
Symphogen Presents Positive Rozrolimupab (SYM001) Phase 2 Trial Results in ITP at ASH
Symphogen Presents Preliminary Results from Phase 2 Clinical Trial with Rozrolimupab
Symphogen names new Chief Scientific/Medical and Business Officers Senior Management Team Complete
Symphogen Raises EUR 100 Million, The Largest Private Round In European Biotech Ever
Symphogen Receives Milestone Payment from Genentech for Antibody
Symphogen and Swedish Orphan Biovitrum receive U.S. orphan drug designation for Rozrolimupab in ITP
SYMPHOGEN Issued United States Patent Covering Symplex Technology for Antibody Discovery
SYMPHOGEN – Sympress II Production System Enables Antibody Manufacturing
SYMPHOGEN Announces Initiation of Phase 1/2 Trial of Sym004 in Patients with Advanced Solid Tumors
Symphogen Publishes Pre-Clinical Data in Cancer Research Demonstrating Superior Efficacy
Symphogen Opens US Operations in Princeton, New Jersey
Symphogen Appoints Adriann Sax Chief Business Officer
SYMPHOGEN and Origen Collaborate to Produce Transgenic Chicken for generation
SYMPHOGEN Secures EUR 33 million Financing to Support Clinical Development of Antibody Products
YMPHOGEN Adds Receptor's Pan-HER Ligand Trap Technology to Diversify Recombinant Polyclonal Antibody
Symphogen receives milestone payment from Meiji Seika Kaisha
Symphogen to Present Positive Preclinical Data on Sym004 Program for EGF-Receptor Positive Cancers
Biovitrum and Symphogen Report Positive Clinical Results in Novel Rh-immunization Prevention Project
SYMPHOGEN and BIOVITRUM have Initiated a Novel Treatment Study in Autoimmune Bleeding Disorder (ITP)
Symphogen Enters into Strategic Collaboration with Genentech for Antibody Therapeutics in Infectious
Symphogen and Biovitrum Initiate a Second Clinical study with a Novel Treatment of Hemolytic Disease
Biovitrum and Symphogen have Successfully Completed Phase I Clinical Trial